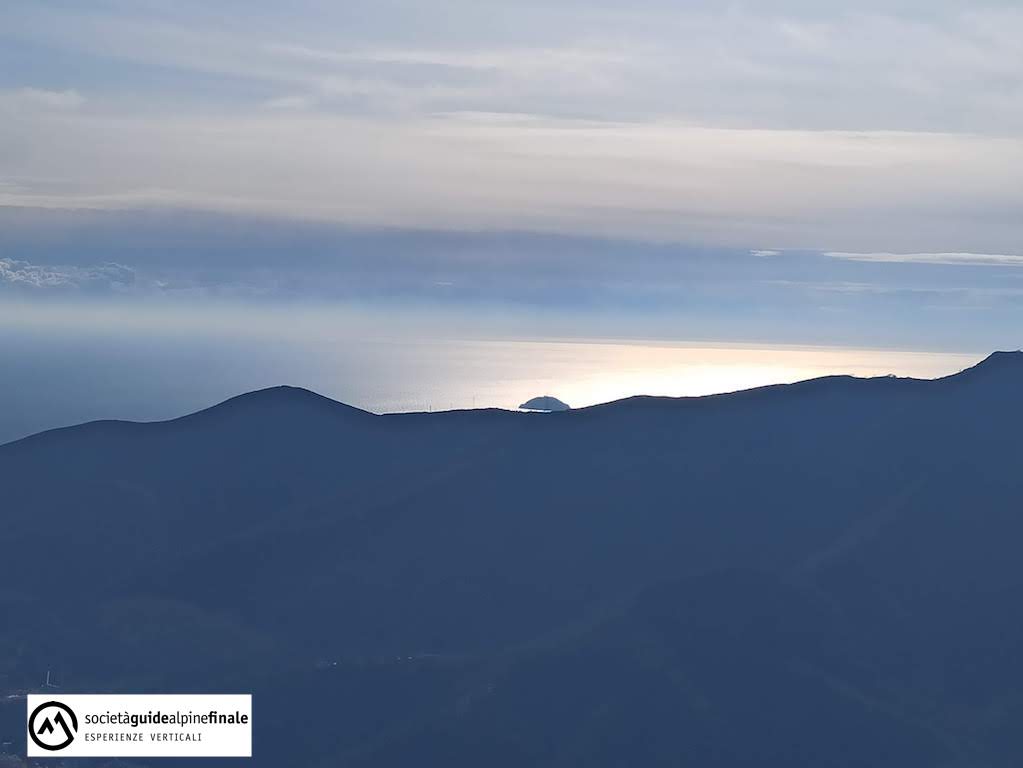 TREKKING ON THE SEA
Four days of hiking immersed in 360 ° on the western Ligurian coast, between sea and mountains, between prehistory and history, between beauty … and only beauty …
Our crossing will be with a 360 ° sea view!
The environments follow one another, passing from the Mediterranean environment in the strict sense to the pure beech woods of Melogno!
Possibility to add a light training program starting one month before departure. Peaks that can be reached: Monte Acuto, Monte Ravinet, Monte Carmo, Bric dell'Agnellino, Rocca di Perti.
PROGRAM
D1: From Ceriale you will reach the top of Monte Acuto and then descend to Toirano. With the first day of walking you can immediately savor the beauty of the itinerary, with the sea behind us that colors the whole landscape blue! We walk along a path surrounded by Mediterranean scrub, which reaches its peak of beauty with the top of Monte Acuto. In Toirano it will also be possible to visit the very famous and wonderful caves of Toirano.
D +: ∼ 900 m
Development: ∼ 15 km
D2: From Toirano we will walk to San Pietrino and the Abbey of San Pietro ai Monti which enrich our second day of walking with interest. You will walk between beech woods and barren slopes, with a truly particular variety of landscape, passing from a Mediterranean environment to a more mountainous one in just a few steps.
D +: ∼ 1000 m
Development: ∼ 10 km
We will stop at the Pian delle Bosse Refuge, one of the most beautiful and characteristic Refuges in Liguria!
D3: This is Mount Carmo day! The unmissable Monte del Ponente, one of the most beautiful and well-known, for its height of 1389 m (not bad for a Ligurian sea view!), For the panorama it offers and for the nature it hosts, both in botanical and fauna terms. From the top of Mount Carmo, which can be reached via the ridge path, we will then link up with the Alta Via dei Monti Liguri, following wide and never too inaccessible paths. You will pass through wonderful birch and beech woods with a truly fairytale atmosphere. Climb to the top of Bric dell'Agnellino and then continue, via a pleasant dirt road surrounded by beech woods (AV), to the Central Melogno Fort.
D +: ∼ 1000 m
Development: ∼ 15 km
From here we will make a shuttle transfer to Finalborgo, in order to explore, during our fourth day of trekking, also the Finale area in the strict sense, which undoubtedly offers unique landscapes and paths!
D4: Finalese Tour, from the Ivy Grotto to the Castrum Perticae, passing through the Pollera Grotto and Pian Marino, and then go up again to the Rocca di Perti, to discover the beauty and history of this land.
D +: ∼ 400 m
Development: ∼ 8 km
Equipment:
• Sturdy trekking shoes or mountain boots
• Clothing suitable for the season (will be communicated)
• 30/40 lt backpack.
• Personal underwear replacement clothing.
• Rain jacket.
• Sheet bag for overnight stay in shelters. Water or other drinks, packed lunch for the first day and some snacks. In the shelters it will be possible to take advantage of the half board service and to prepare a packed lunch for the next day.
How can I pay for the excursion (s)?
A deposit must be paid for both treks. Accommodation and meals will be paid individually on site. Places are limited (max 16 people)
Is reservation required?
Absolutely yes, it is mandatory to book. Registrations will close when the 16 members are reached. The reservation is considered blocked upon payment of the deposit. The shelters in these locations and this season are very crowded, so reservations need to be well in advance.
DETAILS
Departure: Ceriale, 10.00 am
Total difference in height: ∼ 2500 m
Difficulty of the route: E, intensity: Medium
Commitment: Medium
Training: Medium
Duration: 5 days
Trip type: Smart Tour
Packed lunch
Price: 300 €
The individual participation fee includes:
Trekking (as per program)
Assistance of the qualified professional figure for groups and individuals on hiking terrain called Middle Mountain Guide (A.M.M.)
Overnight stays in local and characteristic accommodation facilities with half board
The fee does not include:
Supplementary insurance
Transfers and travel
The lunches
Anything not mentioned in the item "the fee includes"
Legend:
Difficulty: T = tourist, E = hikers, EE = expert hikers
Intensity = corresponds to the difficulty expressed in: High, medium, low
Effort = physical effort required: High, medium, low
Training = Degree of training required: Excellent, medium, poor
Trip type = Degree of adaptability required. Hard Adventure, Adventure, smart tour, confort +
❓ For more info Contact us!❓
guidefinale@gmail.com
+39 392 63 13 606