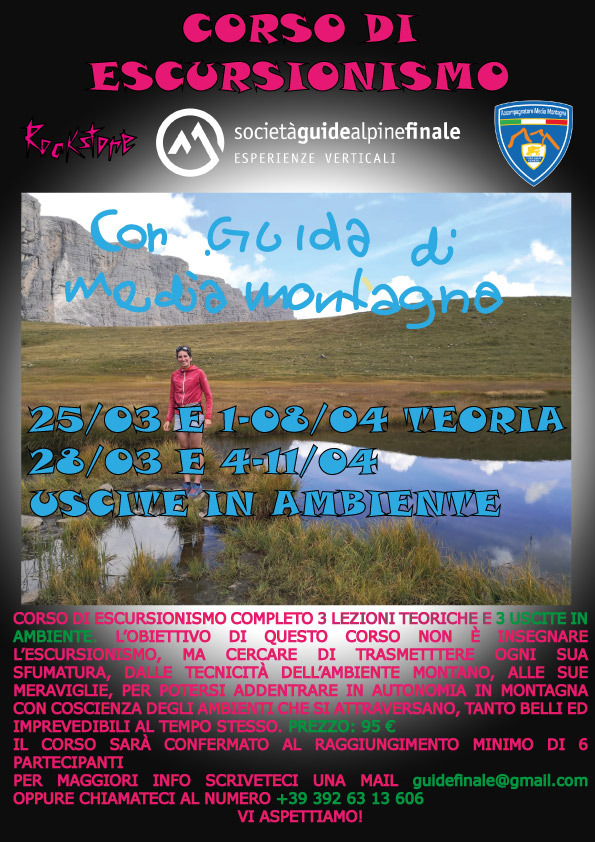 HIKING WITH DIFFERENT EYES
We do not want to define this experience as a real hiking course, because it is natural to ask oneself: "but do you teach how to walk"?
And of course the answer is no!
But this is an opportunity to look at this activity with different eyes, learning to go up to the mountains with awareness of what you can meet and what you can see and explore.
We want to provide ideas for personal growth, to learn how to plan and manage unforeseen events that can be frequent in mountain environments.
I would like, personally, as Trekking Guide of Società Guide Alpine Finale, also to provide you other eyes to observe everything that has always been there, but never seen before!
DATE
25/03/2020:  Theoretical lesson (materials and nutrition)
28/03/2020: Trekking
01/04/2020:  Theoretical lesson (Meteorology and orientation)
04/04/2020:  Trekking
08/04/2020:  Theoretical lesson (Progression technique and GPS)
11/04/2020:  Trekking
PRICE
95 euro each
 NOTE
 

The price does not include travel

The course will start with a minimum of 4 participants