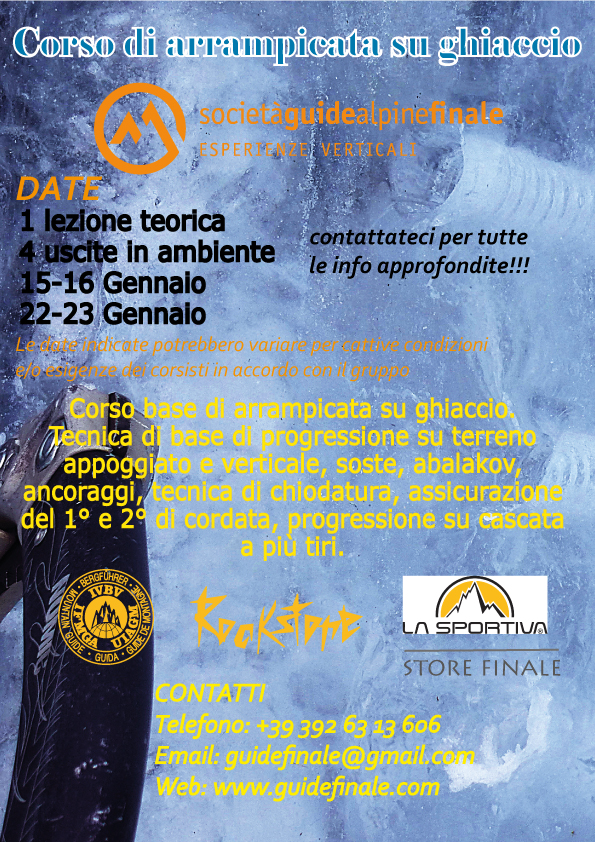 Ice climbing course 2022
Theoretical lesson: the date will be established with the group
January 15-16: out in the environment
January 22-23: out in the environment
The ice climbing course is suitable for everyone since it will start from the basics, tackling the progression technique with ice axes and crampons, the maneuvers necessary to move safely, the bolting, the characteristics of the ice, the materials, the stops, abalakov …
You will be accompanied and trained to face the world of ice through four days in the environment, climbing and trying! ?
DETAILS
Price: 290 euros each
The price includes the teachings of one of our UIAGM certified Alpine Guides, it DOES NOT include travel, transfers and any overnight stays (the same expenses of the guide that will be divided among the participants).
The technical material is supplied by us until stocks are exhausted, excluding boots and clothing.
The dates may vary due to bad conditions or needs of the group in common agreement
❓ For more info and reservations ❓
+39 392 63 13 606 or guidefinale@gmail.com
Contact the Final Alpine Guides Society for more information
[/et_pb_row]
[/et_pb_column]
[/et_pb_column]