What is a via ferrata?
A typical climb of the Dolomites, itineraries equipped with metal steps and cables so the progression will be easy and funny with continuous and safe grip for the hands and feet. 
Using the appropriate kits, the cable allows you to tackle the climb safely without resorting to the classic progression with rope .
This allows the ascent even in groups (up to 6 people per mountain guide) which makes it a more "social" activity than the classic mountaineering climb.
Un'esperienza verticale per tutti

DIFFICULTY: The route is quite simple, everybody can do it, you just need a little bit of courage and good physical condition.

DURATION: the ascent of this railway takes the whole day because it is quite long

DROP: The via ferrata has a height difference of 600m

DEVELOPMENT: The path develops for a length of 1500 m
A vertical proposal all in Finale 
Although not a typical "specialty" of the Finale Ligure area, the Ferrata degli Artisti of Magliolo is now a traditional attraction for lovers of this kind of climbing.
The itinerary develops on the southern slope of Bric Agnellino (1335 m asl) until it reaches the top following a series of steep rocky spurs (called Costa dei Balzi Rossi because of the typical color of the rock) interspersed with softer parts.
The southern exposure makes it perfect for spring and autumn but with the right conditions and / or correct departure times the ascent can be made all year round.
This is not particularly difficult but it's long via ferrata, so the whole day is required for the ascent and descent.
Special passages: a long and aerial Tibetan bridge 42 m long
The strong point of the itinerary: an exceptional panorama on the Ligurian Riviera
Curiosity: along the route you will find the paintings of the artist-climber Mario Nebiolo
La Ferrata Degli Artisti
salita della nota linea di Magliolo
€
75,00
/

EACH (4 participants)
The price includes:

– accompaniment of a Mountain Guide with UIAGM certification

– Equipment rental: helmet, harness, via ferrata kit

– insurance coverage

– The transfer from Finalborgo to the place where the climb takes place (only up to 4 people)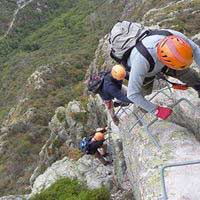 Personal equipment to face the climb:
– Hiking shoes or light mountaineering boots
– Backpack with at least a liter of water and a small supply of food
– Gloves
Information regarding equipment and clothing may vary depending on the conditions and season. Follow the instructions of the guide.
Società Guide Alpine Finale
also offers other itineraries:
Ferrata di Tenda
in val Roya (Francia, inland of Ventimiglia)
€
65,00
/

EACH (4 participants)
Accompaniment of an Alpine Guide with UIAGM certification

Equipment rental: helmet, harness, via ferrata kit

Insurance coverage

Orientation: mainly in the South

Starting point: Tenta

Recommended seasons: spring, autumn, winter
Ferrata di Briga
in val Roya (Francia, inland di Ventimiglia)
€
65,00
/

EACH (4 participants)
Accompaniment of an Alpine Guide with UIAGM certification

Equipment rental: helmet, harness, via ferrata kit

Insurance coverage.

Orientation: mainly in the South

Starting point: Le Brigue

Recommended season: spring, autumn, winter
Ferrata di Peille
La Turbie (Francia)
€
70,00
/

EACH (4 participants)
Accompaniment of an Alpine Guide with UIAGM certification

Equipment rental: helmet, harness, via ferrata kit

Insurance coverage.

Orientation: mainly in the South

Starting point: Peille

Recommended season: spring, autumn, winter